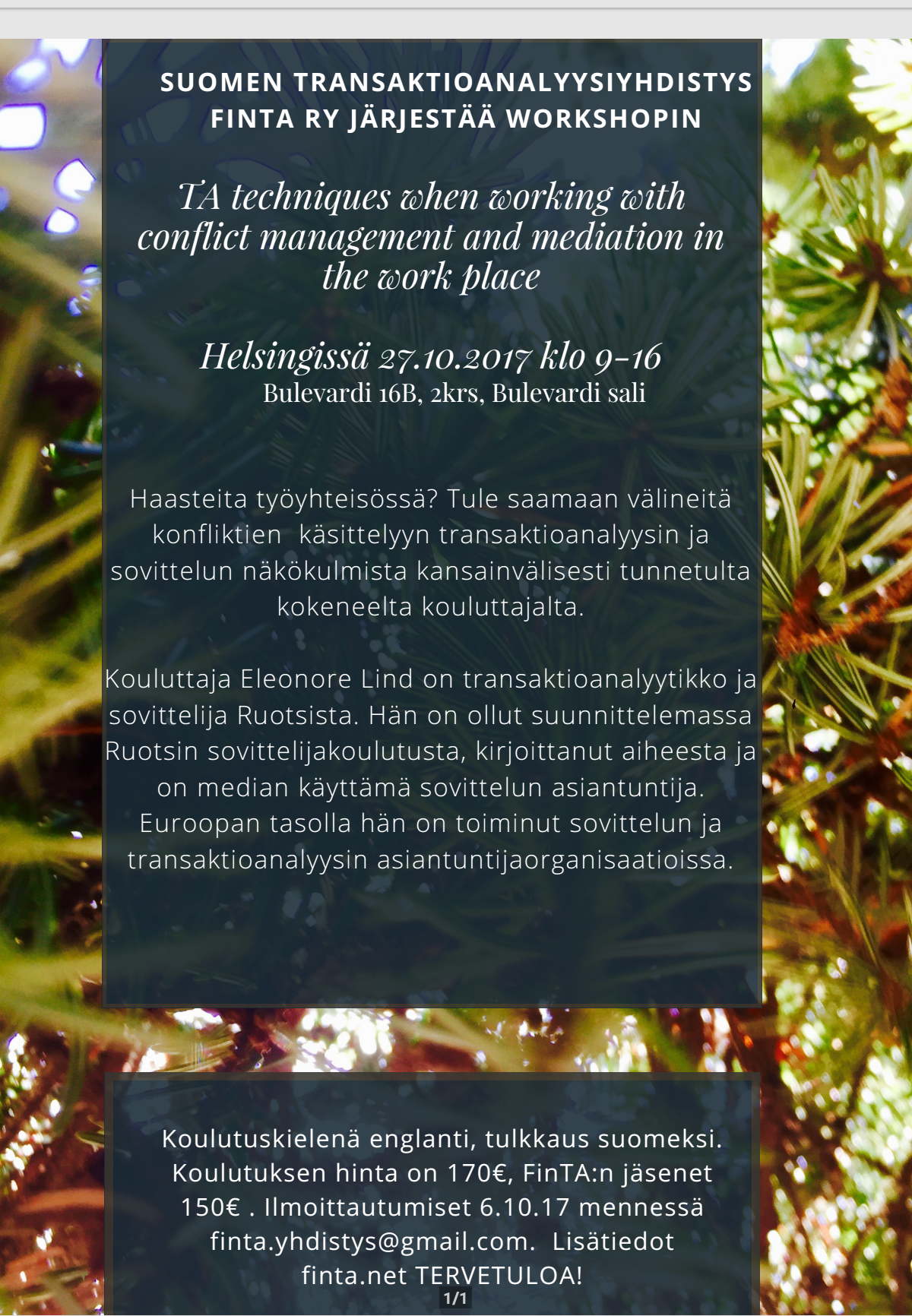 FinTA ry järjestää yhdessä transaktioanalyytikko, sovittelija Eleonore Lind´n kanssa workshopin perjantaina
27.10.2017 klo 9.00 – 16.00, os. Bulevardi 16 B, 2.krs, Helsinki:
A day of TA techniques when working with conflict management and mediation in the work place
Haasteita työyhteisössä?
Tule saamaan välineitä konfliktien käsittelyyn transaktioanalyysin ja sovittelun näkökulmista kansainvälisesti tunnetulta kokeneelta kouluttajalta.
Kouluttaja Eleonore Lind on transaktioanalyytikko ja sovittelija Ruotsista. Hän on ollut suunnittelemassa Ruotsin sovittelijakoulutusta, kirjoittanut aiheesta ja on median käyttämä sovittelun asiantuntija. Euroopan tasolla hän on toiminut sovittelun ja transaktioanalyysin asiantuntijaorganisaatioissa.
Koulutus sopii hyvin erilaisissa organisaatioissa työskenteleville, johtajille, esimiehille, coacheille, työnohjaajille, sovittelijoille – sekä kaikille asiasta kiinnostuneille!
Koulutuskielenä englanti, tulkkaus suomeksi.
Koulutuksen hinta on 170€, FinTA:n jäsenet 150€ .
Ilmoittautumiset 6.10.17 mennessä:  finta.yhdistys@gmail.com.
TERVETULOA!
Lataa koulutuksen esite pdf-muodossa: FinTA workshop 2017.
Eleonore kertoo aiheesta seuraavaa:
Conflicts at work are a common reason for work not being done as it should and effectiveness being lowered. Studies in Sweden show that we might loose as much as 12 – 15 hours per week per individual because of conflicts. That is a lowered productivity by 38% due to conflicts and psychological ill health at work, a staggering number.
Many times when being asked to mediate at work I hear the phrase, the conflict sits in the walls, meaning that conflicts cannot be solved , nor can anybody do anything about them. I don't agree! Conflicts are started by individuals and maintained by individuals because of the pay-off they give – to some! So looking at conflicts at work from the perspective of ego states, communication and game analysis can be useful.
I will combine the basic principles of mediation as a method with transactional analysis theory and practice to present some useful ways with dealing with conflict in the workplace.
The day will be a mixture of theory and practical exercises to illustrate the use of models.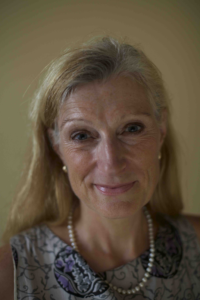 Eleonore Lind PTSTA-p, mediator and transactional analysis (TA) psychotherapist. She is one of the owners of Scandinavian Institute for Transactional Analysis in Gothenburg, Sweden (www.transaktionsanalys.nu), a training institute for psychotherapy in TA.
She has a private clinic and offer therapy, coaching, supervision and training in TA. She also mediates in community, family, organisational, neighborhood and peer mediation, as well as teach mediation.
Eleonore started training in TA in the UK in 1994 where she lived for 28  years. In 1998 she moved back to her native Sweden and started working with TA and Mediation within different fields.
Between 2004-2008 she worked at the National Counsel for Crime Prevention in Sweden on the governments commission for Victim Offender Mediation, VOM and Restorative Justice. There she designed and implemented training in VOM nationally. She has also run various projects on Restorative Justice, for example Dialogue and Mediation after serious Crime. She has participated in many programs on television as an expert mediator, for example Grannfejden (The Peacemakers in 2016-2007). During this period she was on the board of European Forum for Restorative Justice working from Belgium on supporting the implementation of RJ in Europe. When she finished there in 2014 she begun her engagement in EATA, European Association for Transactional Analysis where she is a board member.